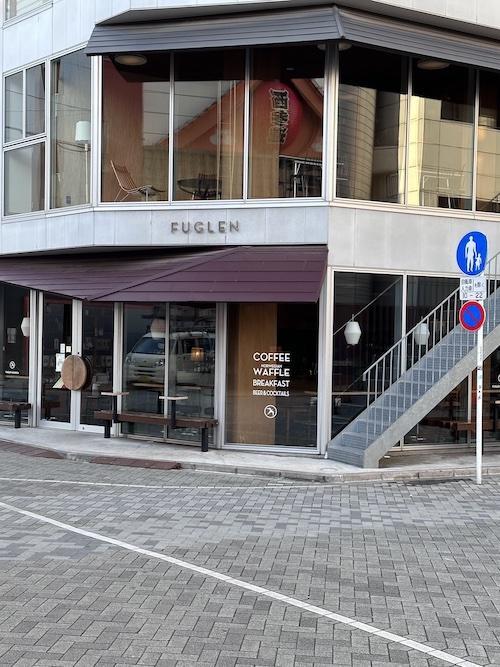 I just spent the last 2 weeks in Japan exploring castles, shrines, gardens and the underground world of the Tokyo transit system. During my travels, I stumbled upon a quaint coffee shop called the Norwegian Waffle House, located in the heart of Asakusa district near the Senso-Ji temple.
This little shop was on a corner street among the many other shops in the area. The shop exterior of the shop appeared to be on the lower floor of a drab residential building. Upon entering, I was greeted by a cozy modern coffee shop style with a Japanese touch of light cedar paneling and simplicity in design. The shop has two floors, with the second floor reserved for customer seating, accessible via a captivating old-fashioned spiral staircase. An elevator was also tucked around the corner, out of sight to meet strict Japanese accessibility code.
Greeted by the barista, I ordered a latte to take a break from my day-long walking adventure in Japan.  However, the barista mumbled something under her mask that I could not understand. After some back and forth, I found out that we needed to order at least two items to sit and enjoy the ambiance of the premises. Baffled, I obliged and ordered some waffles with my Cafe Latte.

The cafe latte came in a smaller mug. As with most things in Japanese, the items come in small portions, which provide a perfect ratio of espresso and milk. The latte acidity was sweet with a chocolaty, nutty, and creamy aroma. I have included a picture of the latte art, so this place employed some serious baristas. I give this latte an 8 out of 10 rating. 
In conclusion, the Norwegian Waffle House is a hidden gem in the bustling Asakusa district that is worth a visit. From the captivating interior design to the delicious waffle offerings, this coffee shop has something for everyone. So, the next time you find yourself in Japan, be sure to stop by the Norwegian Waffle House and treat yourself to a good Cafe Latte.