Today, we visited the Salt Lake Roasting Company. After 30 years in business, SLRC has become an SLC staple, and is a favorite of locals and visitors alike. We took our free Saturday morning to put its fame to the test: would SLRC's latte be on par with its reputation?
Jackie's Review:

I ordered a small iced latte with cow milk. It was light in color and appeared creamy, although it had no perceivable aroma.
Its flavor was bright and crisp in its acidity, with nutty undertones that were reminiscent of hazelnuts, like if you took a tiny scoop of Nutella and plopped it into the cup before drinking it. Contrary to the majority of the population, I don't really like Nutella after an incident where I ate too much and vomited. So this was not a positive feature of the drink for me. However, I did appreciate the complexity it added to the latte. The texture was thin but smooth, likely owing to the proportion of milk in the drink. Its nutty nature was almost malt-like, and this aspect of the drink left my mouth feeling dry after each sip. The dryness was arguably the most notable and memorable characteristic of SLRC's latte. The coffee's sharp and tangy and dry personality was a bit overpowering and, in my opinion, interrupted the other nuances of the drink even more than Trump interrupted Biden at the presidential debate two weeks ago. And that's a lot of interruption. Additionally, I felt that there was just a little bit too much milk in the drink. It felt like the milk was added to combat the dryness of the espresso. And the milk failed at this task. Despite this, the caffeine content was like a kick in the ass or a pinch of the nipples or a teaspoon of high-grade cocaine in that it was very energizing and effective in making me go zoom zoom zoom throughout the rest of my day.
Overall, the latte was decent, but left much to be desired. SLRC is a wonderful establishment and the owners and coworkers are extremely pleasant. They have great customer service. It's no wonder they are so popular. However… their latte did not improve my mood as a good latte should. It did not make me sad, either. I felt quite neutral.
I would rate SLRC's latte as a 5.5/10. The search continues.
Kip's Review

Salt Lake Roasting company was an enjoyable stomping ground for me years ago at the old building, just a block East of the library. So today was the first time I have ordered anything from them in a while. I ordered a small hot latte. I usually order small because I hope to get the right mixture of espresso versus steamed cow milk.
I have gotten very picky over the years when it comes to drinking a proper latte, and most establishments add too much milk to top off the cup. SLR latte was no exception and thus too much milk.

This latte had come with a cool fern design in the milk. The overall flavor was a smooth milky nut, perhaps hazelnut, a taste that I find relaxing to drink.

I would rate SLRC's latte as a 6/10.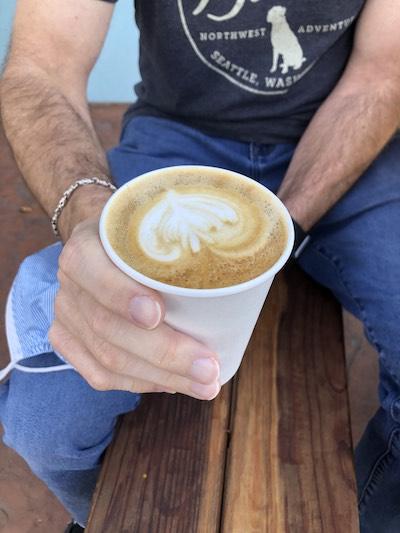 FINAL AVERAGED RATING: 5.75/10