Kip's Review
I am out in Toronto, Canada, for a much-needed R&R. I had never been to Toronto, and it seems like a cooler place weather-wise than most places in the USA. While there, I was sure to check out Tim Horton's coffee, gasp! It was ok, to say the least. The feeling I get from Tim Horton's is a cross between Mcdonald's and Dunkin' Donuts. Not exactly blog-worthy, in my humble opinion. Hey, I'm supposed to be on vacation here, however, I needed a decent latte, so I stopped by this coffee shop called Neo Coffee Bar on Bay Street near the hotel I was staying at.
Neo Coffee Bar is placed near the street with full top to bottom windows the length of the shop. The bar faces the street, so when you enter, busy baristas greet you. It's a very simplistic modern shop with nice light pine wooded slat panel walls and a concrete bar with a marble top. Plenty of seating inside and out with simplistic Ikea-like matching pine wooden seats and tables atop metal-based pedestals.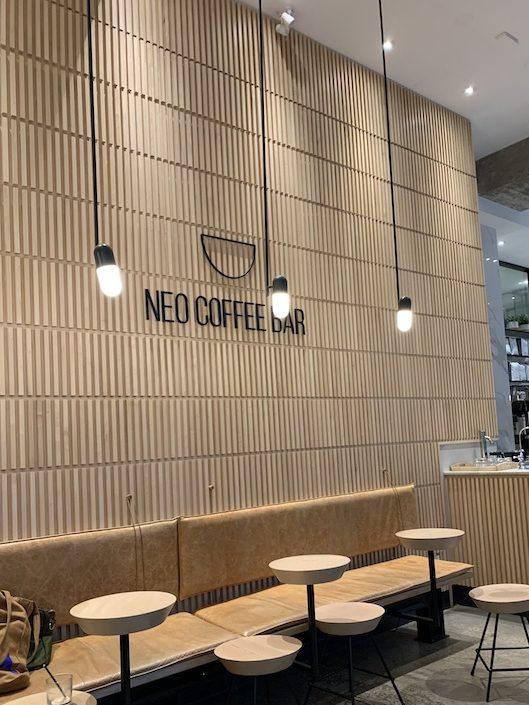 Behind the bar, they have a small kitchen for bakery goods which appears to be just enough space for one person to bake the assortment of pastries they offer. It seems like a good use of space, but I can't imagine more than one person doing the baking at any one time. Then they had two baristas up front serving their signature drinks and pastries.
Enough about the shop details. I ordered a blueberry muffin and, of course, a latte in a mug. I did mention before how a ceramic mug is the best choice for lattes, so I won't bore you with that here. The latte was really good, the perfect balance of espresso and milk to the point I could taste the espresso in the froth! The taste was kind of a chocolate and fruity flavor, kind of like chocolate-covered cranberries. It was one of the better lattes I've had in a while. Or perhaps Tim Horton's latte was so bad anything tasted a LOT better? Nah, this was a good cup that I'll give this a 9 out of 10. Lastly, the muffin was also really good. It was a normal size muffin with a huge cinnamon-crusted head. Seemed kind of strange having cinnamon on a blueberry muffin.