Jackie's Review
It was a nippy Saturday morning, and we (my dad, me, and my best buddy Auston) decided to make our way out to Blue Copper Coffee Room, a quaint and hip little coffee shop on 9th south and about 1st west. Auston and my dad got to the spot first, as I could not decide what to wear. When I arrived I ordered, of course, a hot latte.
I was pleasantly surprised by this latte. There was something about it that was so… creamy. The texture was very unlike other lattes I have had; it felt softer in my mouth. It was sweet and not bitter in the slightest, and I felt that the ratio of coffee to milk was pretty average. Not too low and not too high. It was nice to sip on my delicious, creamy little latte while I learned about the intricacies of dysentery, pathogenic diarrhea, genital lesions, and horribly devastating incurable illnesses. The atmosphere was great to be learning about these topics, however, I felt that the table we were at was a bit too thin. We sat at the bench in the center of the shop. In the beginning, there were not many people in the cafe, but it soon became pretty crowded.
I also ordered a slice of cinnamon coffee cake. It paired super well with my little latte and my dad kept glancing at it until I finally allowed him a singular bite.
Overall, I would rate their latte an 8/10. The creaminess adds about 3 points to this latte.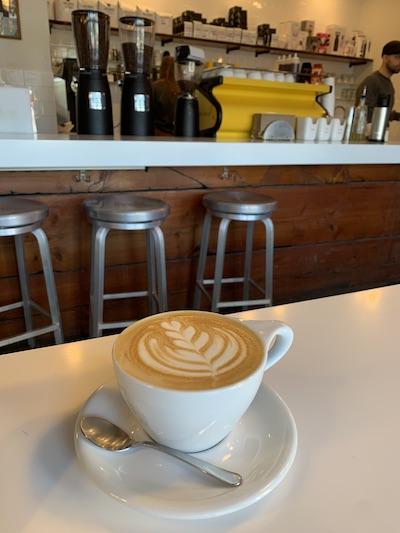 Kip's Review
I did not know about this place until a coworker from India suggested I should try it. Mind you, he's never been to the USA, but he is a coffee snob himself, and we were talking about roasting beans, and he posted the URL for this place in slack. https://www.bluecopperslc.com/coffee/. I figured I'd meet up with my daughter and her friend for my Saturday morning latte.
I arrived early with Auston to find the place empty aside from the two eager baristas behind the counter. This was their 9 am opening time, so that is expected. However, it quickly got packed by 9:30, so it must be a popular place. It's a very modern hip kind of shop, and they have this extremely cool rusted innards of a piano hanging on one wall.
I ordered a latte in a mug. Mugs, as I have said, are always best for drinking coffee. I have no tolerance for paper or plastic shit. Metal mugs suck, too, as it changes the acidity in the coffee. Anyway, unfortunately, I was disappointed with the latte. Though beautiful foam art, the balance of the taste laid heavily towards the milk. I assume they only gave me one shot of espresso, and there was a bit too much foam. From now on, I will ask for two shots whenever ordering a latte in a mug.
My rating for this latte is 5/10.