"Home of the crepes, land of the free", as Brigham Young once said after visiting Nostalgia Coffee some time ago. Nostalgia sits on 100 South, near the very heart and shining diamond of Salt Lake: the LDS Temple. This is definitely a classic for Salt Lakers, and the place is well known for their scrumdiddlyumptious crepes of both the savory and sweet variety.
I apologize beforehand for the lack of photos!
Kip's Review
Ah, this homey place had an awesome tasting nutty latte.
The crepes, which rhymes with grapes, so my daughter says because I wasn't sure how to pronounce (editor's note: dad is deaf), was the cherry on the top. This homey shop has a rustic wilderness feeling like some cabin in Park City, Aspen or Yellow Stone.
The space was cluttered with thick wooden furniture and dark brown rustic leather couches.

The latte was served in a ceramic mug with frothy foam on top. The foam design wasn't of anything specific, not that it matters. It was a bit too much foam that could have called it cappuccino. The milk to espresso ratio was just about spot on with a taste that was smooth and a little nutty. I rate the Nostalgia latte an 8 out of 10.
Jackie's Review
I agree wholeheartedly with my dad in the vibez of Nostalgia. Wood furniture, rustic feeling lights, and foresty green and rusty orange on the walls. I have been here many a time to study, read, and just hang out with friends.
To be honest, we went here three months ago and I procrastinated on writing this review. As such, I have completely forgotten what the latte was like. I am very sorry to our devoted reader, grandma, to not have done this sooner. For this week, I will only include my dad's review which I would trust with my life as you should too.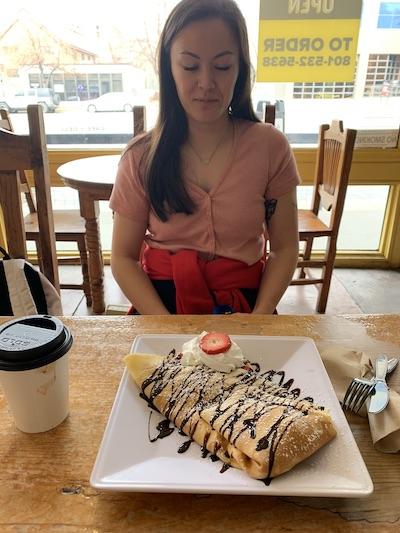 Final Score: 8.